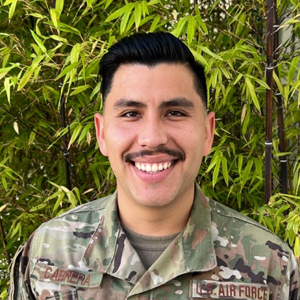 Captain Misael Cabrera
Education Flight Commander
San Diego
Bio
Capt Misael A. Cabrera is the Operations Management Flight Commander for the 355th Logistics Readiness Squadron (LRS), 355th Mission Support Group (MSG), 355th Wing (WG), Davis-Monthan Air Force Base (AFB). In this position, he is responsible for the compliance and training of 455 airmen across 11 AFSCs as well as the management of resources and systems valued at $105M.
Capt Cabrera commissioned through the Air Force Reserve Officers' Training Corps at San Diego State University and has served five years as an Air Force officer. His first assignment was to the 732d Air Mobility Squadron in Joint-Base Elmendorf-Richardson (JBER), Alaska where he led the Combat Readiness and Resources Section, the Passenger Services Section, and the Air Freight Operations Section, respectively. While at JBER, he directed the movement of over 20,000 passengers and 3,800 tons of cargo. He was then assigned to 12 Air Force (AFSOUTH) as the Chief of the Plans and Integrations Branch where he oversaw logistics sustainment of 31 countries in the area of responsibility.
Education
2017 Bachelor of Science in Criminal Justice, San Diego State University

2017 Logistics Readiness Officer Course, Sheppard AFB, Texas

2021 Master of Science in Operations Management, University of Arkansas.

2022 Squadron Officer School, Maxwell AFB, AL.
ASSIGNMENTS
June 2017 – August 2020; Aircraft Services Officer in Charge, 732d Air Mobility Squadron (AMS), Joint-Base Elmendorf-Richardson, AK.
August 2020 – September 2021; Chief, Plans and Integrations Branch, 12 Air Force (AFSOUTH), Davis-Monthan AFB, AZ.
September 2021 – PRESENT; Flight, Commander, Operations Management, 355th Logistics Readiness Squadron, Davis-Monthan AFB, AZ.
MAJOR AWARDS AND DECORATIONS
Air Force Commendation

Air Force Achievement Medal
EFFECTIVE DATES OF PROMOTION
Second Lieutenant May 24, 2017

First Lieutenant May 24, 2019

Captain May 24, 2021