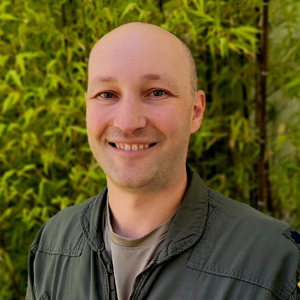 Lt. Colonel Donovan Matteson
Recruiting Flight Commander
San Diego
Bio
Lieutenant Colonel Donovan J. Matteson is currently assigned as an
Assistant Professor of Aerospace studies, Air Force Reserve Officer
Training Corps Detachment 075, San Diego State University, California.
He is responsible for recruiting, educating, training, motivating, selecting, and commissioning officer candidates through a comprehensive college program.

Lt Col Matteson commissioned through the Reserve Officer Training
Corps in 2008 from the University of Portland. He is a KC-135R/T
Evaluator Pilot, logging over 2,000 flying hours in the KC-135, T-1 and
T-6. He has deployed four times in support of Operation ENDURING
FREEDOM, flying nearly 1000 combat hours in the KC-135, refueling US
and coalition aircraft. He has been assigned to MacDill AFB, FL and
Fairchild AFB, WA serving in various positions including Executive
Officer, Aircrew Flight Equipment Flight Commander, Chief of
Training, Chief of Standardization and Evaluations and Chief of Wing
Nuclear Operations Plans. He is a board selected Phoenix Mobility
Officer serving in positions including Operations Flight Commander,
Assistant Director of Operations, and Wing Executive Officer at the
621st Contingency Response Wing, NJ. He is also an Air Refueling
Control Team Chief having served in multiple exercises including Pacific Sentry and Austere Challenge. Lt Col Matteson is a joint qualified officer having served as a J5 planner at USSTRATCOM.
Awards & Honors
Defense Meritorious Service Medal
Meritorious Service Medal
Air Medal with five oak leaf clusters
Air Force Commendation Medal with one oak leaf cluster
Combat Readiness Medal
National Defense Service Medal
Global War on Terrorism Expeditionary Medal
Nuclear Deterrence Operations Service Medal
NATO Medal
Education
2008 Bachelor of Business Finance, University of Portland, OR
2014 Squadron Officer School, Maxwell AFB, Montgomery, AL
2014 Masters of Business Sports Management with honors, American Military University, Charlestown, WV
2020 Masters of Science Operations Management, Air Force Institute of Technology, Wright-Patterson AFB,OH
2022 Joint Combined Warfighting School, National Defense University, Norfolk, VA